Well here we are plunging along into a brand new decade. Last year the ol' rust bucket was forced to stay in the barn due to various issues, including the inability to justify dragging it or myself out to the desert.
But this year is looking up!
My sanity has lapsed just enough to make me think that Contraption upgrades and driving west are both good ideas.
So for those of you who have kept up with this project, you will need little bringing up to speed, but I've noticed a wonderful influx of new faces to the board in the past few months. For those of you who are unfamiliar with The Contraption and wishing only a brief introduction, following is a photo to give you an idea of the product of slapping together some old rusty farm junk, some found objects and a flame belcher: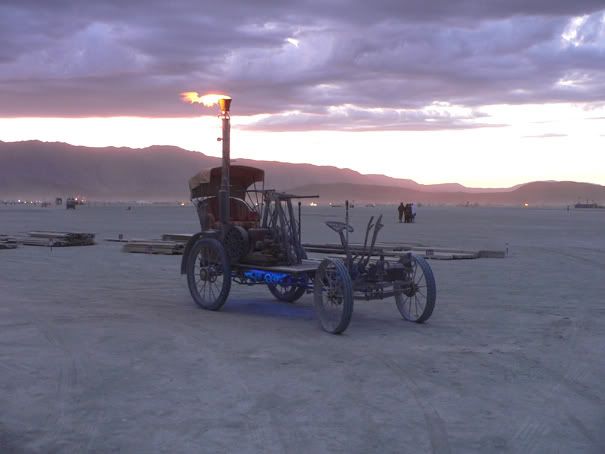 However...
It must be made clear that the product is far form the entire work of art. You see, as I began documenting the progress of the project in
the very first Contraption thread
, it quickly became something more than I'd ever expected it to be. And I'm not referring to the number of responses the thread got, but rather the depth of the stories that emerged. There was a lot of people pitching in thoughts or helping to trouble shoot an idea, but every now and then something more was teased out . Out of the rusty junk that was being pieced together came the memories of people who were touched by the project enough to share their own experiences. The thread itself became an interactive art piece that grew and revolved around, making me look at the project in a whole different light than I'd expected.
So with this new thread that will document progress of the third stage of The Contraption, I'm inviting the new faces to chime in as well. If you have an idea, voice it. Got a playa project gearhead question? Ask it! And best of all, if you have a story you want to share, then share it. To quote an eplayan from way back whom I admired, "What you need is a memory keeper - someone who'll hear you and repeat your stories back to you every so oftenâ€