After working very hard on this concept for a long time, I am pleased to show it to the 'real' world for the first time today
:
THE POOL OF PLENTY AND EXCHANGHIBITION BANK
"When Bankers get together for dinner they discuss Art. When artists get together for dinner, they discuss money"
- Oscar Wilde
Do you remember the image of Scrooge Duck diving into his money? Wealth and material accumulation once provided a happy image to children around the world, but have become increasingly dystopian and suspicious in recent times. Financial crisis has removed the pot of gold awaiting us at the end of the rainbow. Insatiable appetites for growth have allowed greed to drive us to the end of an abyss. While there is a great deal of disagreement, there is one consensual truth: something needs to change. But even though the fantasy of riches has gotten ever more distasteful, can you still resist a swim in a pool filled with money?
And that will be my new art project on the Playa: a pool filled with millions of money bills, bundled in stacks -The Pool of Plenty. A closer look at the pool will reveal that the bills in the pool are not real money, but pieces of aesthetically pleasing art. During today's financial crisis, art has been frequently cited as an advantageous alternative asset class and diamond encrusted skulls and Picasso's go for over one hundred million. But do the millions of dollars that might buy you a Warhol or a Koons speak about the social or artistic value?
Entering the pool building through the steel vault door the visitor will be locked for a few seconds in a disorientating black void. Another door will open and a world very different than the one left behind will unfold itself; a sterile world full of money!
Pool personnel will greet the visitor and show them where they can undress and store their belongings before entering the pool. As the participants will strip down to enter in a pool of artful riches, they'll realize it's strictly forbidden and enforced by security guards to take even one bill back to their camp! This pool will provide a mouth-watering oasis, without quenching your thirst.
In Black Rock City, a city that functions without money, a Fort Knox like vault will hopefully challenge the assumptions and relationships participants have with money, and art. A transitional experience putting money back into the face of the participants, who I'd hope would use this time not just as a vacation void of currency, but an opportunity to detach, reattach, rethink and question ideas and values.

There's also a part of the project which will happen before in the default world, where It will be possible to get a bill though; they can be bought, or rather exchanged at the Exchanghibition Bank (yes, in times when banks fall and need to be saved by the government, I will start my own bank!). There'll be a fluctuating exchange rate. The first bill I designed has denomination Zero, but could become the most expensive bill, because of its beauty and scarcity. The bank booth will be traveling around, sometimes at festivals or openings, but also popping up guerilla style in unexpected places. And of course the exchange rate established will give the millions of bills in the pool a value of many millions of dollars,
Does that mean the pool is a good work of art?
The bank site is
http://www.exchanghibitionbank.com
There is also a blog (
http://blog.artasmoney.com/
), which will feature posts about the progress of the project, but more importantly, will act as a discussion- and information platform about art and money and the value of art and will feature guest bloggers and writers giving their opinion and insights on the subject. And hopefully you will get involved in the discussion as well! Various writers and bloggers, such as Ladybee, King Adz (writer of Street Knowledge ), Sal Randolph (artist giving away free money),Groundswell Collective (critical cultural producers at the intersection of art and activism), and yours truly will share their opinions and views on money and art on the blog
The Exchanghibition Bank will hopefully also help us raise money to make this new Dream become a Reality and collect enough money to fill the pool. And of course this bank won't get a bailout from the Government, so we need your bailout! A first fundraising campaign has been started today as well at
http://www.indiegogo.com/Exchanghibition-Bank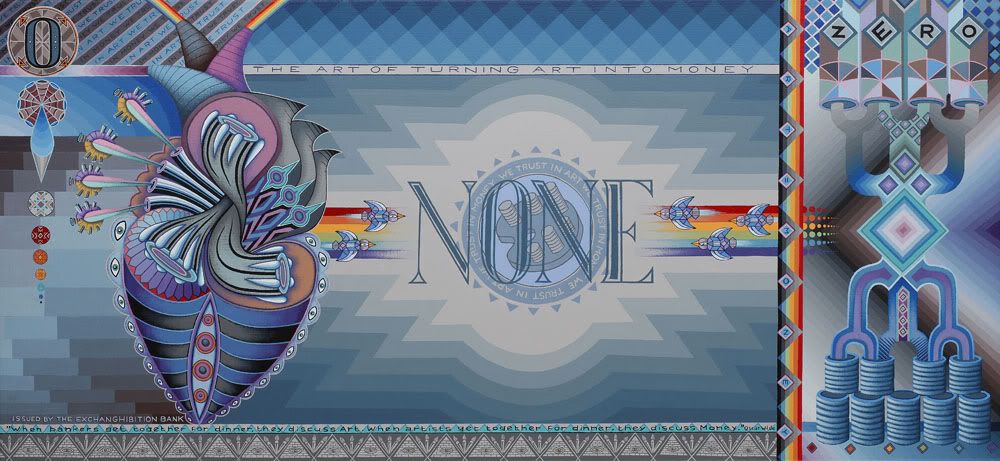 Let's swim in our fantasy while others drown in their reality!
I hope this post will start spreading the ideas and thoughts behind the project. I also hope it will help me raise some money to fill the pool (after all; Money alone won't make Dreams come true but it sure helps!). It would be also cool if people checking out the blog could come up with suggestions, ideas, and connections for other cool and interesting writers and bloggers for the blog-platform (and get themselves involved in the discussion as well by commenting). Organizing this whole project from Amsterdam in the Netherlands obviously has some disadvantages, so any help offered in the US is very welcome (though of course I don't want to exclude anyone from outside of the US, who wants to offer help.......). I'll need to get an infrastructure organized in the States and find some headquarters for the Bank as a home away from home. Nimbyspace in Oakland already offered me working space, which might be a good place to start. Also I'd love to find places, events, galleries, etc around the US where I could set up the bank booth in the period leading up to BM.
Okay, enough typing for now, after all I still need to paint some money
I will use this thread to keep you all posted on any cool new developments as well.
Yours Bankingly
Dadara
CEO and Founder
Exchanghibition Bank
For those that are not familiar with previous art-installations of mine on the Playa, I have included a few links:
Fools Ark (2002):
http://www.dadara.nl/sculptures-and-ins ... /Fools-Ark
Burning Greymen (2003):
http://www.dadara.nl/sculptures-and-ins ... ng-greymen
Dreamyourtopia (2008):
http://www.dreamyourtopia.com