An interesting thought concerning the value of art and money.
I keep thinking this in the back of my head:
In 2001 I went for the first time to Burning Man.
Here in the Netherlands hardly anyone ever heard about BM, so we decided to hook up with an American group to go there and got in touch with the Black Rock Gazette. While camping with them I made some drawings for the newspaper and painted a mural. Only now do I realize that only maybe hundred meters or less away another guy, called Banksy, was also painting. On the outside wall of the Café: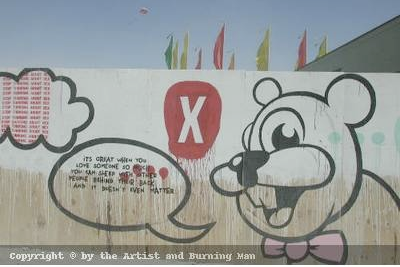 His mural got thrown away. Somebody took mine home and I know they hung it in their living room: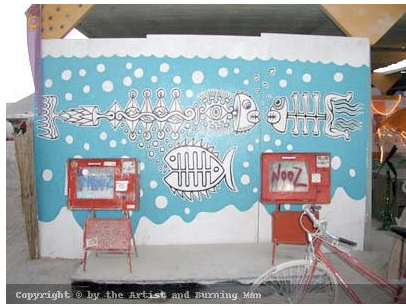 But I also know that if I would have taken the Banksy mural home and sold it a few years later, I would not need to do any fund raising for this project, I would not have to worry about any money needed to fill the pool, and probably could've even build an Olympic size pool filled with money...............