Some of my favorite times from last year's Burn were late morning/early afternoon stunting sessions at Center Camp. We're planning on recreating this phenomenon this year, and I'd like to get the word out to interested parties.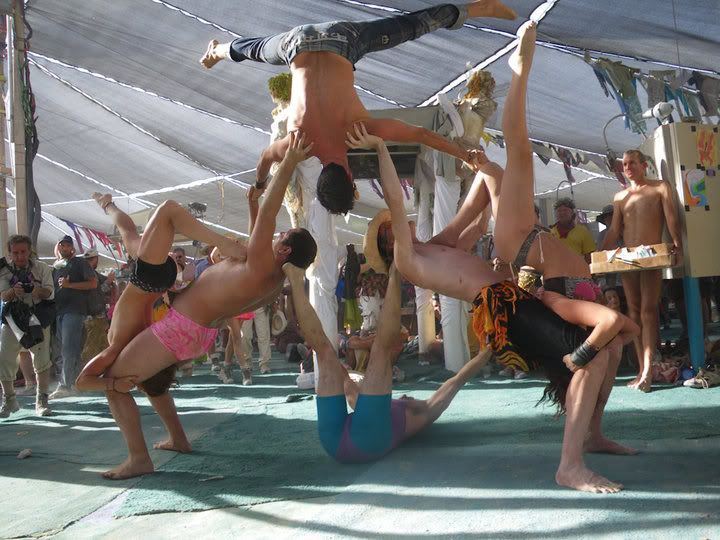 What is stunting?
At its basic level, stunting is a base lifting up a flyer in a stunt. Also called Double Stunting or Partner Stunting, most people recognize it from cheerleading - co-ed cheer squads do a lot of double stunting.
Acrobalancing or Acroyoga is another common variety of stunting where the base typically lies on his back and uses hands and feet to lift the flyer.
Pyramids happen when more than 2 people are involved in the stunt.
Throws are a variety of stunting where 1 or more bases throw a flyer into the air and then catch her, or throw her to another person(s) to be caught.
Our acrobatic troupe
Kazum
teaches all of these different kinds of stunting, plus tumbling (flips, rolls, handstands, etc). We love teaching new people to stunt in a well-practiced and very safe environment.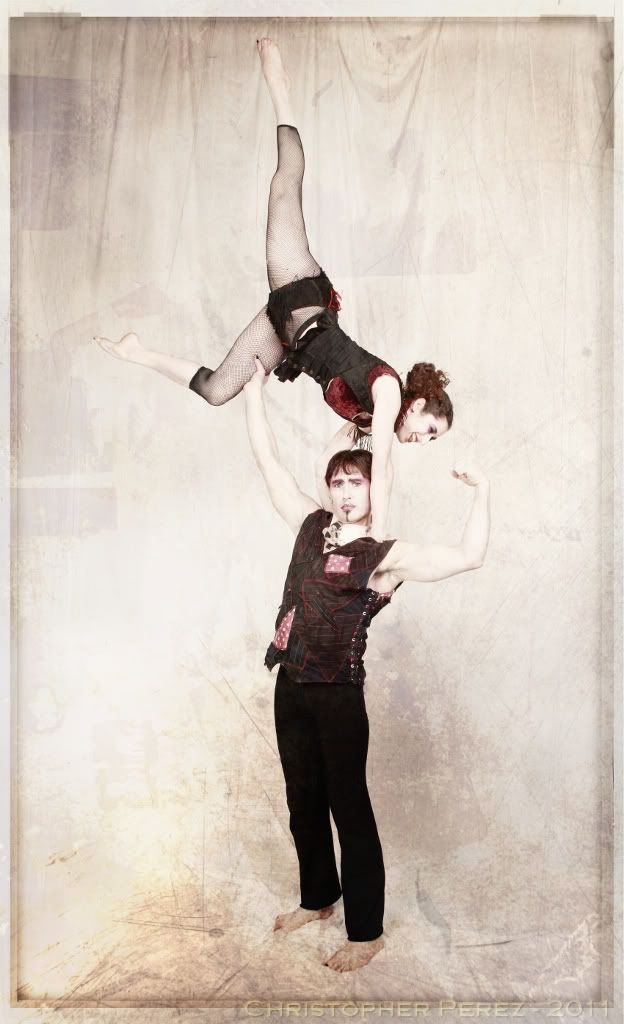 Who can stunt?
Anyone who is in reasonably good health can stunt. Often the flyer is a tiny person, but Kazum is used to real-sized people, too. I work with up to about 250 lbs, and our other big base (Dutch) is built like an ox - he's the 250 lbs I work with. Physical movement experience (sports, dance, biking, etc) is a plus, of course, but it's not required by any means. I've done lots of tricks with people who were disabled or otherwise very delicate. There is a very wide range of difficulty in stunting, and we start with the basics (which are still really fun) and progress at your own rate.
Virtually anyone can climb onto my shoulders with the help of a spotter (a person who stands alertly near every stunt to catch the flyer if anything goes wrong). Most people can stand on my hands as I lift them up over my head so they're standing at 8' in the air - it's scary but it's far safer and easier than you'd ever believe.
Come experience stunting at Center Camp this year, late mornings and early afternoons! Some of us have been doing this for years but some of us are brand-new to the activity - if you see us doing stunts and you'd like to experience basing or flying, just come up and ask and we'll be tickled pink to get you started!
ScottFromPortland, with Kazum