Pictures from the Death Defying Figure 8 Pedal Car Races at Maker Faire. (Focusing, obviously, on my entry,
Steamroller
.) This was a new event at Maker Faire this year, hosted by the guys who have the Whiskeydrome and other fun bicycle stuff.
And they're off! There were something like 15 entries, and we ran in heats of a handful at the time – well, I counted nine in one extra-lively heat.
These snapshots show only a few of the wide variety of entries. Many cars were unfinished, but with the smashing success of the event, expect some serious pedal-cars next year.
Yes, there were crashes; resulting mostly in broken wheels.
Steamroller
did not have any such problem.
Most importantly…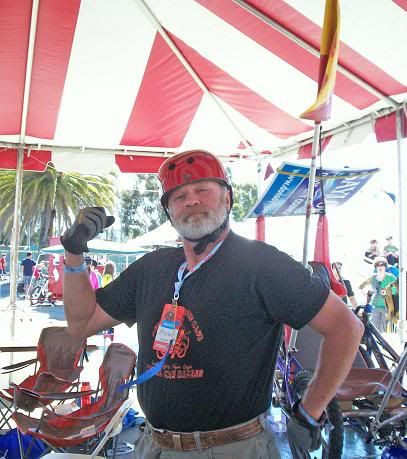 …we looked darn good doing it.
The rest of Maker Faire was nice too. Tons of Burning Man art.