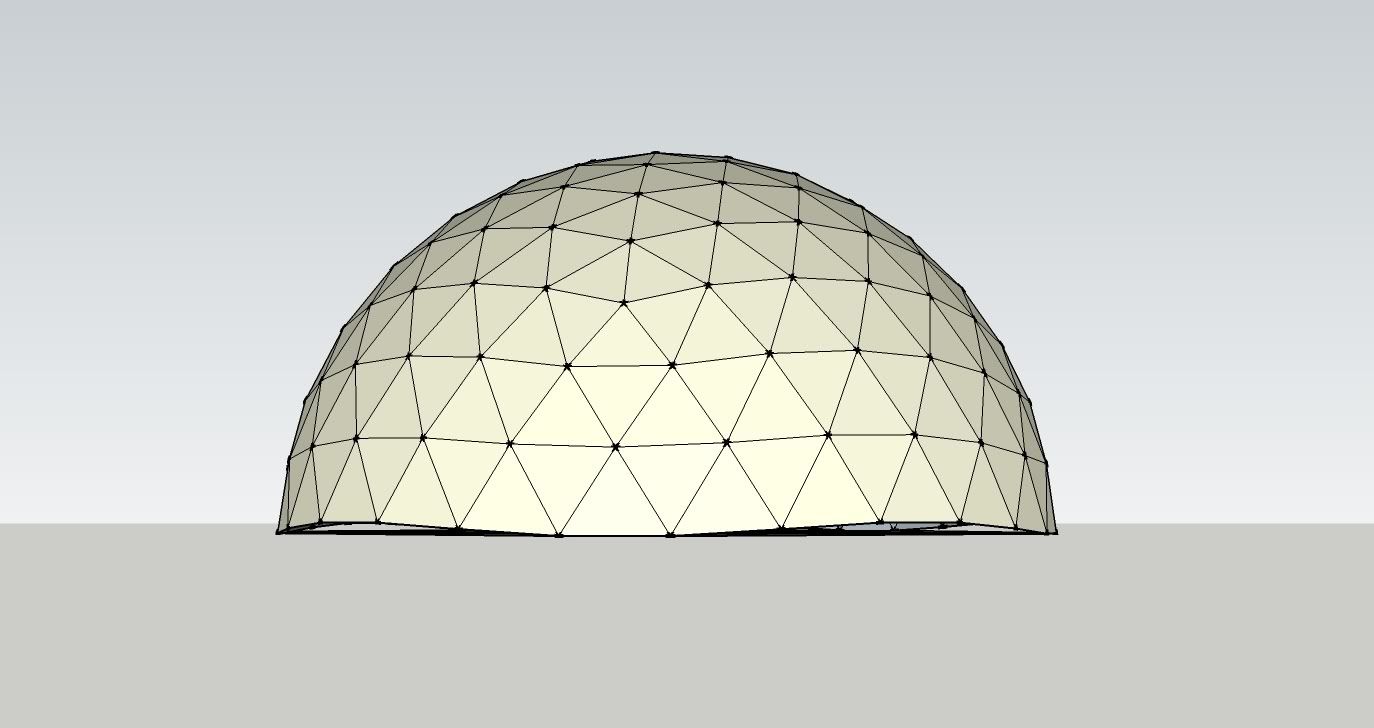 This is my first post since being on playa. This past burn was my first and it's hard to put in words, so I won't! I was blessed to be a member of the BooBy bar and can't imagine there's any better burners to learn the ropes from than TITWI and Pinemom. One of the less abstract things I took away from my first year was an infatuation for Geodesic Domes. I came out a week early and had the pleasure of helping to build two domes for the BooBy bar and another for a friend's camp. I intend to build one of my own for 2010 and I need a bit of advice.
I have spent a lot of time drafting a model in sketchup. I've adapted my models from various geo dome spherical templates in the google catalog. It seems that the most appropriate type for a playa-bound dome is a Class I Icosahedron. I could be wrong about that but it appears to have more uniform strut lengths and a ring at the mid-point that is fairly close to parallel with the ground, which leads me to my question:
When the bottom half is removed from a Class I Icosahedron, there is a slight "ripple" in the lower base. There is a low point, a strut that touches the ground, on every "tenth" of the perimeter. On all the adjacent "tenths" of the perimeter, there is a high point - a strut that is several inches off the ground. On a 15' radius dome, this high point amounts to about 8" off the ground. For domes that are purpose built as free-standing structures and being flat on the ground, is this 8" negligible? Will the structure essentially settle the difference, forcing the low struts up 4" and the high ones down 4"? I can certainly adjust the length of the struts in the lower row to make the entire perimeter of the dome rest on the ground but that is going to greatly increase the complexity of the whole project.
I've found internet calculators that offer basic strut lengths based on the radius and frequency of the dome you intend to build but that's not what I'm looking for here. I'd like to draft the beast before I build it and for that I need hard geometry and some playa experience.
Dome builders! Feed me your wisdom, please!