It's that time of year, when we all are prepping to go to TTITD. This has been my big focus the last couple weeks. I hate greywater and hauling back from the desert, so some years back I started with a design found here on eplaya. I've moved on to the third version.
Behold the EVAP MKIIIA Evaporation Fountain, "Wedding Cake":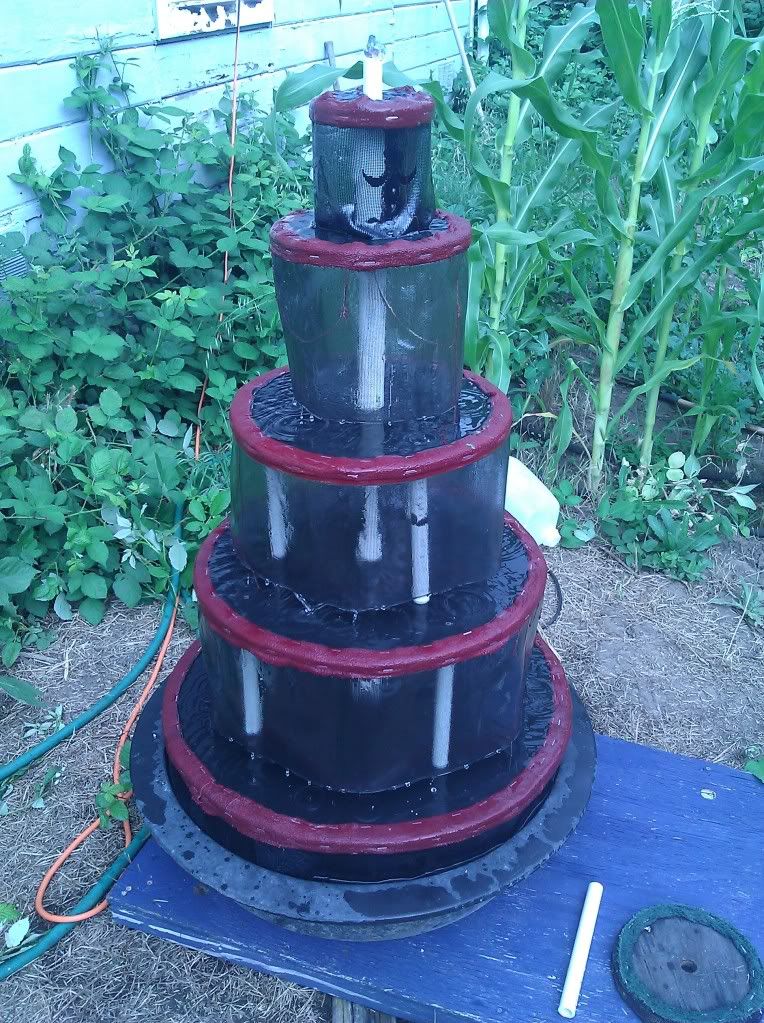 The two of them work in parallel with each other. I'm working on an instruction set which will be posted here, but will happily answer questions for the time being.
It can be built in an afternoon by anyone with basic tools and the knowledge to use them.
Depending on resources & scrounging ability, it can be built for almost nothing. The MK I pump came from an old fish tank. The pond liner could be replaced with a small kiddie pool or galvanized bucket. Plywood scraps can be found many places, you don't need a new full sheet. PVC seems to spawn in my garage.
If you buy everything new, $50-100 dollars.
Parts:
1 sheet plywood
2-10' pcs 3/4" PVC
1-4' pc 1.5" PVC
1-4' wooden dowel 1/2' or 5/8'
2-4 dark towels
Mesh fabric
1 26' "whiskey barrel" pond liner
1 small pump
Screws
The pump and pond liner were the only things I actually bought last year, $20 each. The rest was all scavenge/reuse. I did spend $3 on the mesh at the local thrift store this year.
Also check out
http://www.evapotrons.info/
for other cool designs.