Wouldn't be nice to have a thread showing your structures or the ones that caught your eyes has being playa-worthy?
Everyone has a specific solution to offset the challenges of sun, wind and dust.
Because images speak better than images it might be interesting for beginners or seasoned old timers as well,
to have some photos of different shelters to look at and maybe get inspired for next year.
I start with my dwelling which far being cute or innovative, has in the last ten years withstood the fiercest winds on the playa:
aluminum adjustable poles, 6mm ropes and 2 tarps connected with a cargo van blocking the prevailing wind.
Easy to pack in a big duffle bag that doesn't take too much space to store yearlong.
If I am courageous enough I add some stretch fabric for the walls.
Except for a drop cloth nothing touches the ground, less strain on the back, thanks to a lot of tables and chairs.
And lately I don't bother to put up the walls, I want to enjoy the view of the desert.
The tent is there just in case of lasting rain, I sleep outdoor on a cot under the stars.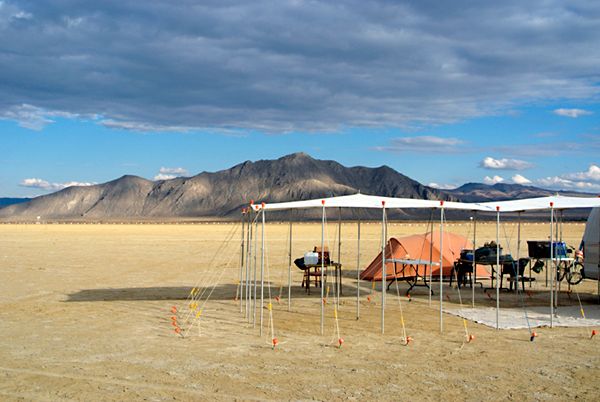 Two structures that blew my socks off
The Metal Pod Cabins by Tin Man
A vertical Tensegrity with a viewing platform on top underneath the square fabric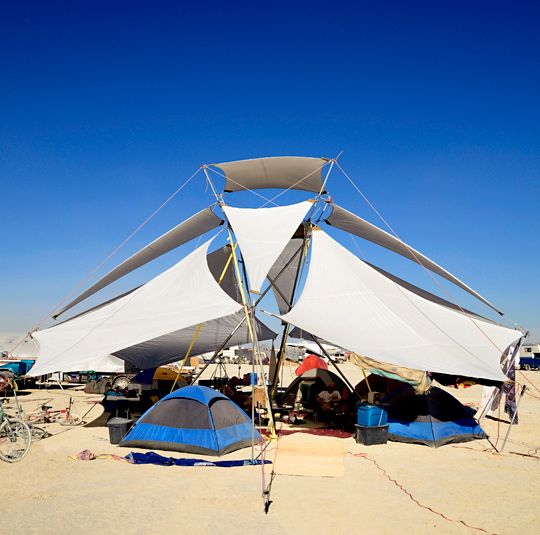 Now, it's your turn show us yours.