I first want to thank all of you who have given so much energy back to our 2011 project - the Exchanghibition Bank. We are very grateful for all the support we received for our fundraising efforts, which made it possible to bring all from the Netherlands and really happy with all the energy and feedback we got from our 'Customers' on the Playa, who all received a Zero banknote in return for signing a Spiritual Karma Laundering Contract. Thank you all. If you'd like to see some pictures, check this link:
http://blog.artasmoney.com/exchanghibit ... -the-dust/
In a world where even Art seems to be measured by its financial value, the value of Money as we know it is becoming increasingly unclear. Our current form of Money, detached from any tangible asset and only backed by our trust, has seemingly taken on the role of an omnipresent Philosopher's Stone, magically turning any quality of life into a measurable quantity of bigger or smaller heaps of cash, or rather digits on our computer screen.But not all values and qualities can be converted that easily into a pile of banknotes. After all, what we really value in life is 'priceless'.
And with all that's happening in the world right now and our existing financial system crumbling it has been an extremely exciting period. Back in Amsterdam we have continued to Exchange the World, and have done so in places as diverse as the Central Station, Occupy, and the Rijksmuseum. And now we are working on the next level of the project and hope to bring that as well to the Playa from Amsterdam.
Our idea is to introduce a mouth-watering oasis in the desert, which won't quench your thirst - the Pool of Plenty. A swimming pool filled with money. We are still tweaking the idea and it will probably keep changing and improving throughout 2012. First step towards the next level will be our new banknote - the 2012 one, which has an expiration date of 21-12-2012, after which it won't have any financial value anymore (but of course will still be art). Just as with the Exchanghibition Bank we want to use this banknote as well to finance our new Dream, but also want our 2012 banknote to have more than just a financial value.
So it can't be obtained by a financial transaction only - we need you to think about the way you'd like to Exchange the World (if you haven't done so already), and describe that idea to us as well. Thus, your specific idea for change will become an inseparable part of your uniquely numbered banknote - this should stimulate and inspire you to turn those ideas and dreams into reality before the banknote's expiration date of 21-12-2012. The banknote will be issued on the 20th of December (20-12). which is tomorrow
It can be (pre)ordered here;
http://shop.artasmoney.com/en/14-2012.html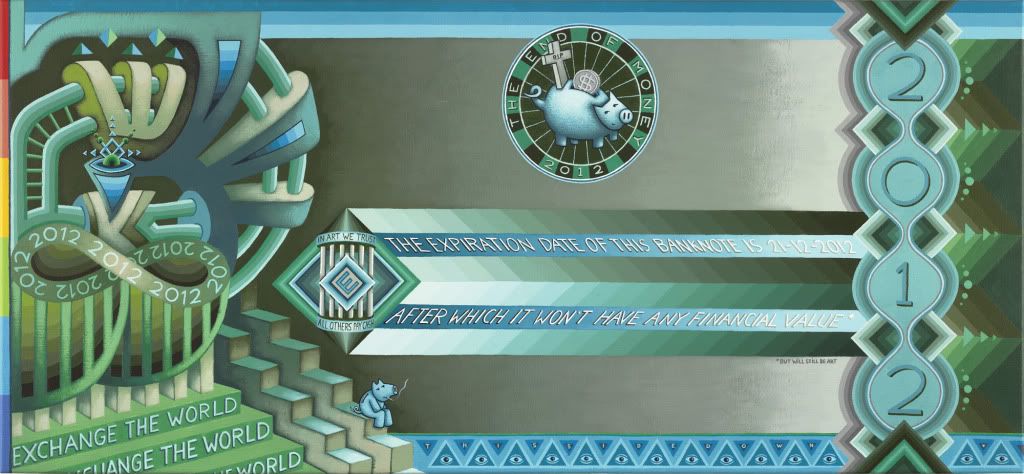 If you'd like a specific number (for instance your birthyear) let us know, and if it's still there we'll reserve it for you
Yours Bankingly and Dreamingly
Dadara
CEO and Founder
Exchanghibition Bank