Today I got the following email, which made me a bit seasick:
Friends of Burning Man's Shipwreck Tiki Lounge

The 2012 burn is coming fast. Hope you all mamaged to get tix for this year as the Shipwreck Lounge is going to be better than ever! Check out photos of our work in progress of a fully self contained and portable, air conditioned, Tiki bar built inside a 45-foot shipping container. facebook.com/shipwrecktikilounge

We are raising funds to complete the project and are offering many exciting premiums on tikilounge.eventbrite.com Entrance to the lounge is going to be a tough ticket this year so pass this email on to your burner friends. Thanks for your support of Ship wreck Tiki Lounge at Burning Man and may the Tiki Gods smile upon you.

Tiki Tom
I clicked the link and read:

For 2012 our plans, though no less grand as past years, will be taking the Shipwreck Tiki Lounge in a fresh new direction.

In order to continue bringing our artworks to the Black Rock Desert in these difficult and expensive times we are redesigning the entire camp to achieve a financial and workload sustainability.

For the past few months the Shipwreck crew have been designing and building an entirely new lounge within our 45 foot shipping container! Once completed, the bar will be shipped intact directly to the Black Rock Desert.

We knew from the start that by doing most of our construction back in the default world we would be bringing to the Black Rock Desert a bar the likes of which has never before been seen on the Playa. But as our project progresses we now believe we may well be building one of the most amazing Tiki bars ever seen on the West Coast!

Due to the Lounge's limited size we anticipate our capacity to be perhaps 20 patrons at a time. So with perhaps 50,000 attendees expected in 2012, the average citizen of Black Rock City may find entrance into the Shipweck Tiki Lounge a very tall order.

We therefore urge all lovers of fine island drinks, tiki fans, and others who want to ensure their entry into our island paradise to take advantage of our premiums being offered through Eventbrite.
Your premium donations also help pay for the Lounge's considerable transportation and construction and bar expenses. Nobody makes any money on this endeavor, we do it for the love of tiki and the Black Rock Desert.
That page also displays this "Ticket Information" frame: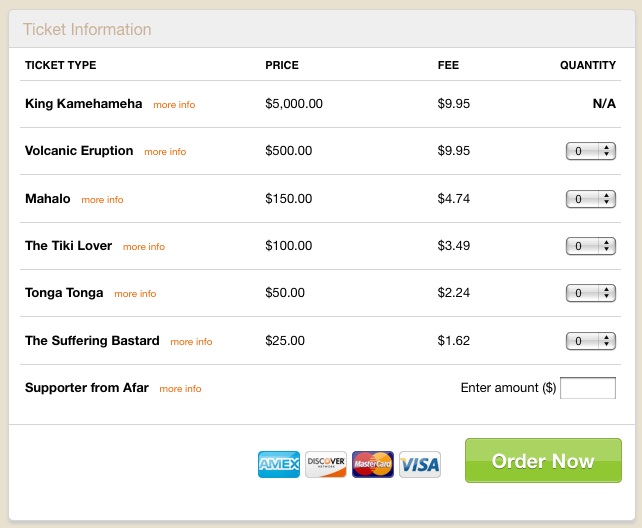 http://tikilounge.eventbrite.com/
I don't think I've ever visited the Shipwreck Tiki Lounge, and I don't know where they found my email address. Is it only me, or is this just wrong? Like the so called "plug and play" camps, it seems to flaunt the principles of Burning Man and I think that in the long run it damages the event.
My two cents.
Key Man