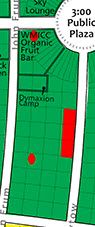 I keep trying to figure out who was on the frontage on K between 3 and 3:15. I don't remember a camp being there - especially one that could create that type of swath.
I'm going to email my neighbors to see if they have any recollection. Based on some of the stories, it could've been opportunistic moopers. We'll probably never know.
That red is just too close to home.