.
ELLIOT'S BICYCLE SERVICE AND TAP ROOM (CAMP)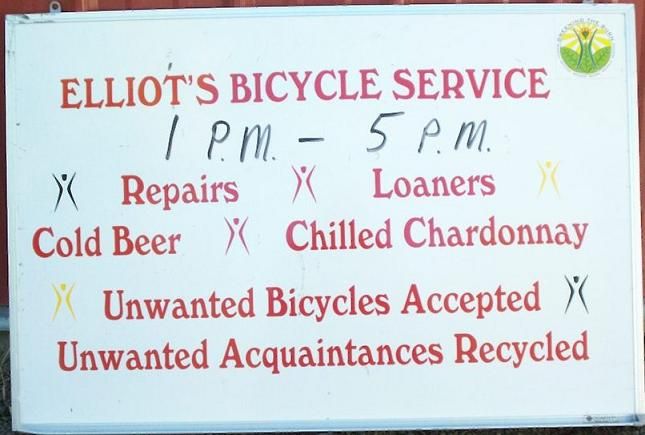 Camp sign by Patch. Tipsy installation by Elliot.
So our
Fearless Leader has indicated that this ePlaya neighborhood is suitable for any camp with a solid interactive theme – not only Registered Theme Camps. So that's my excuse, publicity hound that I am. (Running for Emperor of Cascadia, ya know. On another thread.)
With a
variety of fellow bicycle enthusiasts, we have lent and repaired bicycles since 2006. The big year was 2007 with an actual Registered Theme Camp and half-a-dozen mechanics. Then I goofed off a bit for a couple of years, mostly playing pedal taxi. But in 2012 we set up a proper bicycle shop by Figjam's invitation at his favorite location on 5:00 street between G and H. That went so well we repeated in 2013, same location. We may have finally found a permanent home and method. Could use more technicians, though.
Here you see our setup the last two years:
2012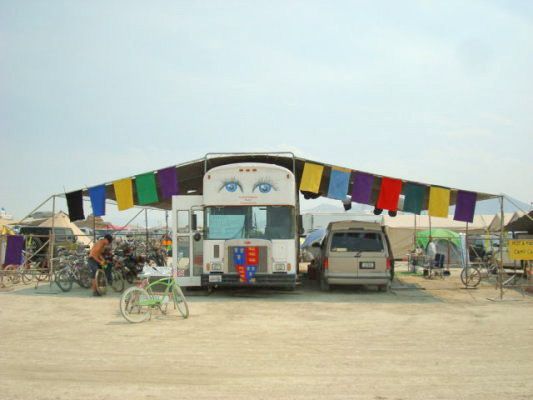 2013
I figure
this thread can serve several poiposes:
This thread
can serve as a conduit to reserve Loaner Bicycles. The loaners are intended for ePlayans and other friends – and friends of friends – who travel by air or are otherwise unable to bring bikes. Best way to request a reservation is by PM. We had 26 loaners in 2013. I'm shooting for 35 in 2014. I need to minimize loans to total strangers, since I lost a ton of bikes that way in 2012. (Lost only three in 2013!) The loan is for the full week. Borrowers should provide their own lock and lights, and use that lock. A lost bike means I have to rebuild another junker to replace it.
This thread
can serve to recruit mechanics. In 2013 we did have a part-time second mechanic in camp, and we had a bit of help from others. And we had a couple of apprentices, such as BoyScoutGirl!
A mechanic does not need to live in our camp, but should commit to working pre-determined hours. Essentially, we are open 1 pm to 5 pm, Monday thru Sunday. A mechanic might choose to work all 28 hours, or two hours just one day. Entirely up to you. This is supposed to be fun. I can tell you it is pretty cool to have people come into camp with worry on their face, and leave with a smile.
We also
serve beverages to our customers. So we could use a Hostess. No mixing of cocktails – we simply pour wine, beer, water and lemonade. The Host would also keep track of the customers, offer them chairs and such.
Even better if the Host knows enough about bicycles to do a little triage. If I'm in the middle of a lengthy repair, it makes no sense to have a new customer wait 30 minutes for a blast of air in a tire. So we would do that right away and get him on his way. Similarly, the Triage Department might see a bike that requires more work than the customer expects, and get the customer settled in to await his turn, without disturbing the mechanic at his present task.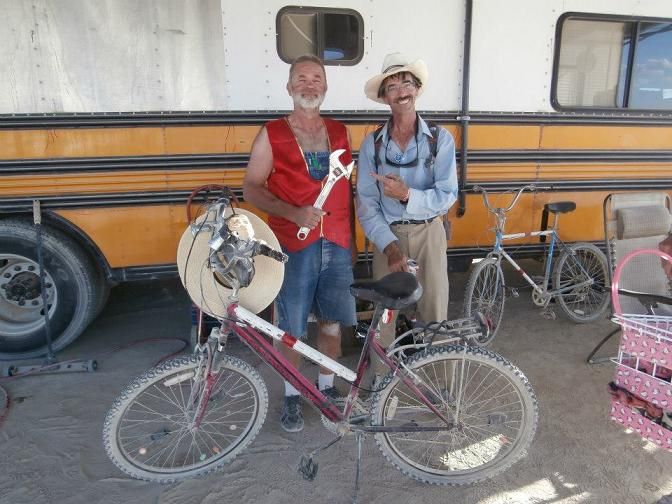 Bicycle mechanic with precision adjustment tool, and happy customer, in 2012.
We work
under shade, and each year we have more rugs on the ground. We have a proper bathroom in the bus, and electricity 24/7. And compressed air for tires, of course.
Working under shade, I find it perfectly comfortable to work naked. Nothing sexual about it – I'm simply a "child of nature" at heart. I asked a camp mate to help me keep an eye on customers' reaction to a nekkid mechanic, and our conclusion was that few if any were put off. I also heard that I acquired a positive reputation as "The Naked Bike Guy" in our neighborhood. So it might be cool if more of us go naked. That's just a suggestion, of course.
But I do have a policy of naked customers going straight to the front of the line.
This thread
can serve to recruit customers. We usually have plenty, but it seems right to announce, somewhere, that our services are available. Patsh made me a nice sign in 2012, (then I forgot to bring it in 2013,) and for 2014 I expect to have a larger banner to make us look classier.
This thread
can also serve as a clearing house for technical information. There have been a number of bike threads before, but they tend to sink to the bottom "in the off season". This thread I will be sure to bump, if needed.
On the "technical info" note…. The first few days of the 2013 event I was swamped with bicycles that should never have been brought to the Playa in the first place. Customers reported buying bikes on Craigslist for 20 or 40 bucks, and expecting that bike to be operational. Folks, people don't unload a bike for lunch money if it is in usable condition. Some bikes were from thrift stores and garage sales – likewise. Some were from Playa-bike operators in Reno – likewise. One even told of buying the bike out of a truck along the road – no effin comment. I may refuse to repair such bikes in the future.
I don't keep records, but I probably spend an average of ten bucks per bike I repair, so I don't need to be abused. The big ticket items are inner-tubes, pedals, and saddles. We go thru a ton of inner-tubes.
I used to patch tubes at home during the winter, but we had too many repeat failures. Now I'm using more and more of the thick "thorn resistant" tubes, at ten bucks a pop. It's worth it.
I request
that this thread be kept on point. We have lots of threads for snark and miscellaneous comments and assorted thread drift. Thank you.
Let's wrap
it up for now with a Mildly Amusing Anecdote: A boy around 15 came into the shop with a nice new mountain bike. There wasn't a thing wrong with it. But this rather obese kid had a complaint: The saddle was hurting his bottom. He didn't even say howdy do – just came in and almost demanded I put a comfy saddle on his bike. So I explained patiently that there was nothing to repair, and he had bought that bike with his eyes wide open. A comfy saddle costs me $25.-, and I install them only when actually needed. He whined. To get him to leave, I had to tell him that he and his fat ass needed only to ride more – a lot more.
Sometimes, there is a downside to a reputation as a nice guy with a lot of bike parts.
But not often!