Elliot's Bicycle Service and Piano Bar,
featuring Miss Sunbeam's Bacon Tamale Kitchen!
It's a bird… it's a plane… it's a... paianna!
Yesss indeeeed, we are adding a piano to the Bicycle Service,
creating
Elliot's Piano Bar and Bicycle Service
for 2015.
There it is, the day I brought it home. The price was $40.-, and I paid in quarters.
Now we just need people who can play, because I cannot.
But I can fix bicycles! And so can several other folks we have shanghaied into such service over the years,
so Bicycle Repair will still be our main attraction.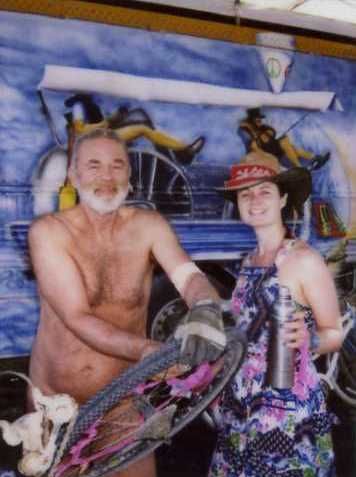 There he is, the camp instigator himself, with a freshly repaired wheel and a happy customer.
We expect shop hours will be the same as before; 1 p.m. to 5 p.m., daily.
Last year we added a Do-It-Yourself work station with bicycle tools, and it was a roaring success. So this will be open 24/7 again. You should bring your own spare inner-tubes, but we will have a selection available in case you have already used up all yours.
We also lend bikes. But we need to cut back from the 43 bikes we lent out last year, to make room for the piano and other Stuff. And the reservation list already has 29 names! So you would need a v-e-r-y good reason to beg a Loaner for 2015.
Mechanics are needed! You don't have to camp with us to fix bikes for a few hours. You can bring your own tools, or use ours. Either way, you get paid in beer. Cheap beer, but cold.
Which brings us to…. The beverage service! As before, we offer beverages to our customers. Cold beer, chilled wine, tepid lemonade, and whatnot else. But we need people to offer these delights to our visitors! So you can participate even if you don't know a cone wrench from a sprocket.
Food is also on the menu. Last year we added the contingent from Texas to the camp, and Miss Sunbeam served up over 750 steaming Bacon Tamales. She is talking about thousands of them for 2015.
You may have noticed, in the snapshot above, that the chief mechanic works
au naturel
. This is encouraged for the rest of the Bicycle Service staff, but you may wear whatever you want. The entire bicycle shop is well shaded, so beginner-level skinny-dippers are safe from sunburns.
(Nude is not lewd – we are not an "adult" camp.)
The last three years we have been on 5:00 Street, between G and H Streets. We want to be there again, but we are also considering turning full-fledged Theme Camp, in which case we may wind up in a different location. Stay tuned to this station.
Or just roam around until you see Millicent The Bus. Wherever we are, there she will be, and those eyes never close.