So. My friends have invited me to work on a "little" project for the burn: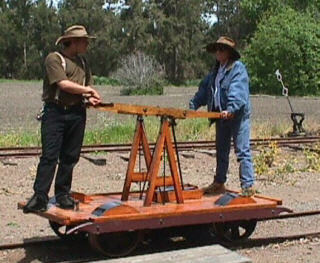 The hand car will be entirely human-powered, with a newly-fabricated frame but scrapped out parts, such as suspension.
I would love to hear your collective thoughts on this project, eplayans. Specifically, we're currently ruminating on:
[*]
Steering mechanism
. Rail cars didn't have to deal with this, obviously, so it's the first point to address: how do we include something that pivots and also bears the full weight? How do we use a pump handle to create a turn in wheels under us?
These guys turn by moving the front two pairs of wheels while keeping the rear pairs straight (I think):
So, we're considering using eight wheels. Which brings me to...
[*]
Number of wheels
. Four gives the classic image but we are not necessarily aiming for a railroad aesthetic. We just want the thing to ride well and make it through the week in one (preferably functioning) piece.
[*]
Wheel size
. We're currently looking at cannibalizing kids' bikes for 14" wheels, but will their tread be wide enough? Should we be thinking about something wider?
[*]
Wheel position
. Under or alongside the platform? Visually, we'd prefer under, and this will give us more space to work with given our fixed max width: We don't want it much wider than 4'6" so it will fit in our trailer. For reference, railroad tracks in the USA have about 4'9" between the rails, so the size seems about right. We'd love to fit four people, two on each side, but we'll see if/how that works out.
[*]
Gearing
. It's tempting to include shiftable gears to help us get through dust drifts, but that's also one more moving part that could be mucked up.
You guys have inspired me so much with your creations, so I'll be pleased to share with you our progress in this thread, should this project come to fruition!