Announcing!....
Elliot's Naked Bicycle Service & Piano Bar
Fundraiser, featuring
Loaner Bicycles
and
cheap schwag
as Perks!
Like last year, when we repaired 629 bicycles, we need donations to make the camp's ends meet. And like last year, we are offering the use of a bicycle for the duration of the Event as our top Perk. (A Perk is a token of appreciation for a donation.)
Even better, we now have TWO flavors of Top Tier Perks – Classic, and Super DeLuxe!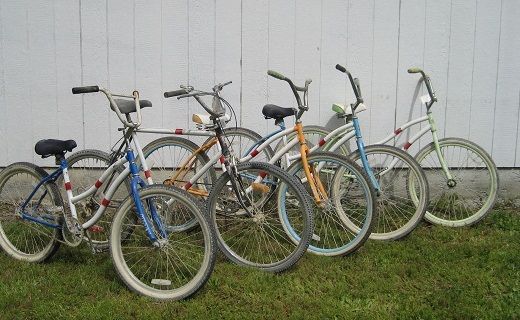 Classic Perk Bikes
are the ones you know and love. All are in good mechanical condition. Many have a tall handlebar and a cushy saddle. Some have gears, and some do not. There is a variety of sizes.
We award these to show our appreciation for donations of $195 and up.
First come first served -- that is, donate now and select your bike on Playa. Alas, we are unable to reserve specific Classics.
That's what
these
are for: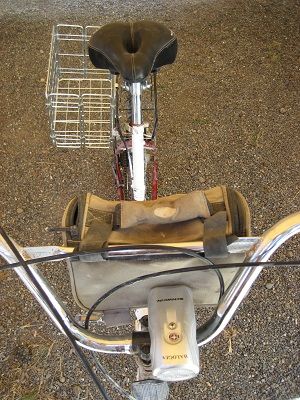 DeLuxe

Perk Bikes
have a rear luggage rack, and a folding steel wire basket on the side of that rack. And lights. All have the tall handlebar, and a small bag or basket on that handlebar. All have the cushiest saddles. And that little pad on the kickstand, which helps keep the bike upright when parked in Dust.
We ask your height, and your preference for gears or no gears. And then we put your name on just the right bike for you.
We award these to show our appreciation for donations of $250 and up.
There are only 20 of these, and only a few left.
Of course, all donations, of any size, are very-very welcome. $20.-? That will buy a pair of pedals and an inner tube! That could be THREE bikes back in action!
All Donors receive schwag such as camp buttons and decals and whatnot.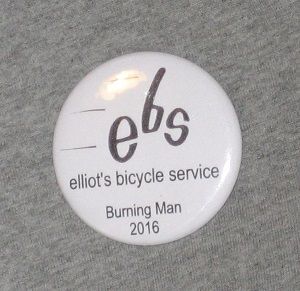 (Sample from last year.)
It is all explained on the FUNDRAISING page of our website:
http://www.elliotsbikes.org/fundraising.html
There is even a convenient PayPal button there.
That is all.
Except... for a few niceties from our Camp Counsel:
We are a placed theme camp. Our official camp name is Elliot's Bicycle Service. We are a G-Rated family-friendly camp where nudity is normal. We strive to comply with and promote the Burning Man ethos, the Ten Principles; and the ePlaya Terms Of Service, including the requirement for this post's subject line to include the camp name and the word fundraiser.
Also….
Last year, we discussed our fundraising with the Winnemucca office of the Bureau of Land Management – our "landlords" in the Black Rock Desert. They contacted us, and asked whether we conduct commercial business at, or related to, the Event.
We do not.
Their concern was that the wording on our website was less than precise on this point. After small adjustments to the language, we were cleared to proceed.
This year's fundraising also follows the guidance we received from the BLM. And we are grateful to the BLM for their friendly and enthusiastic assistance!