Site Admin
Posts: 16908
Joined: Tue Mar 02, 2004 10:54 pm
Burning Since: 2004
Camp Name: Brainy Bar
Location: San Francisco
Contact:
---
Posts: 5820
Joined: Wed May 26, 2010 9:54 pm
Burning Since: 2018
Location: Your mom's tent
trilobyte wrote:
Oh. My. God.
I just fell out of my chair laughing. Pure genius..
Savannah wrote:It sounds freaky & wrong, so you need to do it.
---
crack that whip...
Don't link to anything here!
---
---
Posts: 17178
Joined: Wed Sep 10, 2003 9:31 am
Burning Since: 1996
Location: เชียงใหม่
Just for fun.
---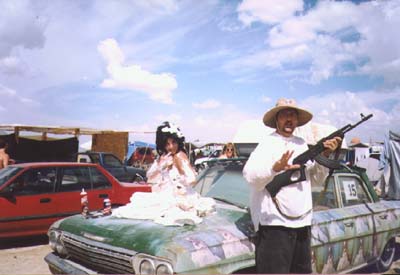 Art Car from BM '98, car is covered in album jackets of "Whipped Cream and Other Delights", the actual album, and a girl covered in whipped cream.
---
Posts: 17178
Joined: Wed Sep 10, 2003 9:31 am
Burning Since: 1996
Location: เชียงใหม่
Thank you, we now have our prime suspect.
---
Posts: 214
Joined: Tue Oct 04, 2011 10:44 am
Location: Los Angeles Area
lemur wrote:THEME CAMP IDEA 2012:

PIE IN THE FACE CAMP!!!

DO THE SPIKE CLAD WARRIORS OF THE THUNDERDOME INTIMIDATE YOU?

DO YOU HAVE A PROBLEM YOU NEED TO RESOLVE?

COME ON DOWN TO PIE IN THE FACE CAMP!! WHERE YOU CAN PIE YOUR FRIEND IN THE FACE..

(PIE IN THE FACE CAMP ACCEPTS ANY AND ALL NITROUS DONATIONS 24/7 ..COME TO THE NIGHTLY PIEING AT 9PM.)

LOOK FOR THE GIANT NITROUS CANNISTER SHAPED DOME

problem solved.
Or Camp B**kake, Whip Cream Style. Whoa, I'm a p*rv today. : O
'I have come here to chew bubblegum and kick ass... and I'm all out of bubblegum'

"Rowdy" Roddy Piper, They Live

Kickass Cook, Bitchin' Mixologist, Good Friend, Constant Student of Life, Experienced Kinkster-
---
Posts: 4716
Joined: Tue Sep 02, 2003 8:11 am
Burning Since: 1999
Camp Name: Barbie Death Camp & Wine Bistro
Location: Meadow Vista, CA
Contact:
Looks like a winner to me. Or course, I'm kind of into pervs.
---
Posts: 553
Joined: Mon Jan 05, 2004 5:18 pm
Burning Since: 1996
Camp Name: Root Society & Apex
Location: Nevada
Oh man, i miss the days of buying balloons at center camp before center camp sucked. 1997 was a glorious year for n2o
Fuck you, fuck you...you're cool, fuck you !!
---
Posts: 1215
Joined: Thu Aug 27, 2009 3:33 pm
Burning Since: 2009
Camp Name: The late Lazy Fucks. Now Orphan Eaters.
Location: Oregon
If it's illegal in Nevada, then I'm not sure it's worth it. It's really not that fun. I do it at the dentist. What IS worth it is 12 or 15 folks going through the mass production of it for one big... uh... you know... uh, use. Now you're talking about a giggly bunch. But, uh the legal thing? No, not worth it...
\^/
/..\ Furthur
---