.
ELLIOT'S GRUESOME TRAILER WRECK – A TALE OF WARNING
This is deeply embarrassing. I really do know better. But after 16 days of joyful sleep-deprivation, Common Sense was taking a long siesta that afternoon.
And I am old enough to be immune to embarrassment. All that matters is to keep other Burners from making a similar mistake. This was a life-threatening situation.
To my profound relief, the actual wreck did not happen.
I am not particularly superstitious, but there is an old saying:
"God looks after fools and drunks."
Well, that day, I was about as foolish as I have ever been. Yet nothing serious happened.
Here we go: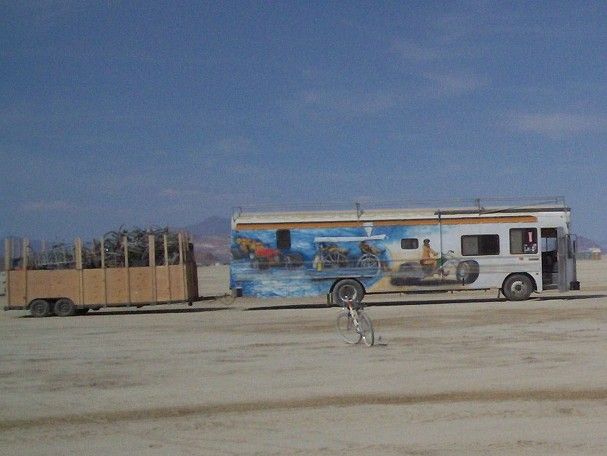 Black Rock City, Thursday September 10, 4 p.m.. One symbolic bicycle left to load, then next stop Reno, for a nice dinner.
Note trailer is essentially a semi-trailer – the axles are at the rear. (It started life as a boat trailer.) This is usually not a problem -- I load accordingly.
The concept is to load the major weight over the axles, and only light stuff in the front. And I did not forget this. But the concern foremost in my mind was to get all that Stuff onto the trailer at all. So I accepted a bit of extra stress on the trailer-frame. And on the whole, the trailer is very strong.
Note taller stack of Treasure in front, and how trailer is sagging. It is normally completely flat.
Stopped for fuel in Gerlach, but otherwise intended to go straight to Reno.
However…. Last year I stopped at the rest area just west of Wadsworth – and discovered a flat tire. So at the last moment I decided it would be "sound practice" to stop there now also.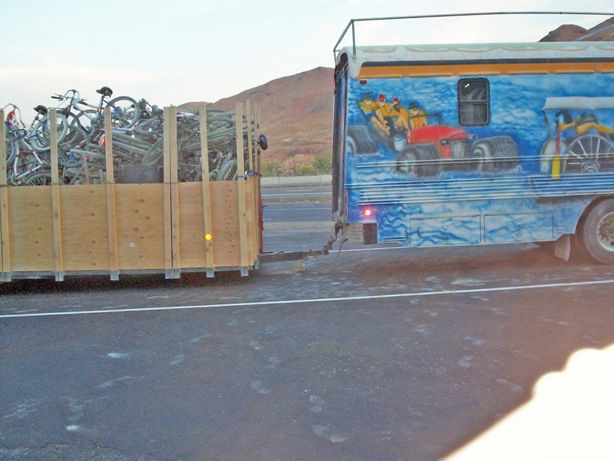 This is what I discovered. First, I noticed the trailer was very low. But the tires were OK. Then I looked at the coupling.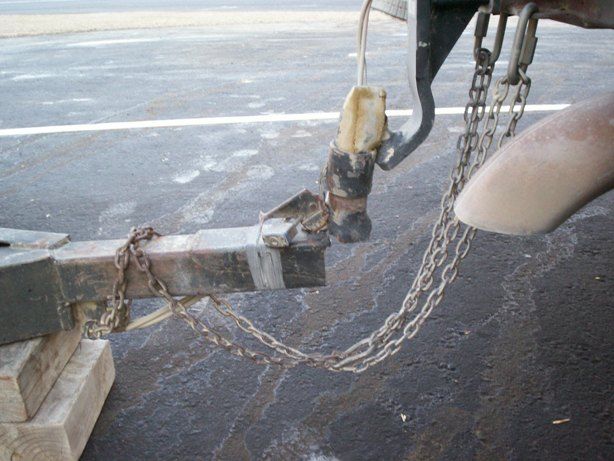 The coupler had broken completely off. The trailer was hanging by the little bracket for the latching lever (the piece with the padlock). There was about 3/8" of weld bead remaining on each side.
Another quarter mile, or one more bump – whichever comes first – and the trailer tongue would have dug into the relatively soft asphalt interstate. (The safety chains being largely symbolic – another embarrassing item.)
The trailer would either have stopped instantly, or cart-wheeled ass-over-applecart. Either way, I would have been on the evening news. Probably nation-wide.
Traffic would have run into the debris-field. Some would have tried to steer around, and lost control. The speed limit is 70 or 75 out there, and many go faster.
This is the stuff of nightmares; of life-long guilt.
And none of it happened. By – quite literally – a thread of steel. And a stubborn instinct to not abandon safety altogether.
With a sawsall borrowed from Big Dale in Reno, I cut off the stump of the coupler, drilled holes, and bolted on a replacement coupler.
I also installed a serious safety chain.
And I pulled the trailer to Dale's house, where it remains for the time being.
No comment necessary. Just don't do what I did.
.
.