Let's not forget Mine Field Golf!
12 Gauge Golf Club
Actual Patent Illustration - All Inventions Hold Real USA Patents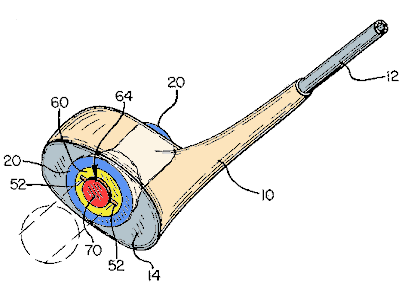 12 Gauge Golf Club
US Patent Issued In 1979
Golf game got you down? Now you can have explosive drives every time with the 12 Gauge Golf Club! This special woody features a barrel, muzzle and a trap door in the rear for loading your explosive charge. The firing pin is aligned with the clubs sweet spot for blasting your balls into oblivion (careful).
Sure, the golf course is going to sound like a firing range and your clubs recoil may take out a few spectators, so we think it may be time to start the new XGT - Xtreme Golf Tour.
--------------------------------------------------------------------------------