Okay, so I guess this post is the official coming out of my project:
CHECKPOINT DREAMYOURTOPIA
-a border control checkpoint to enter your own dreams-
Below you'll find the description, ideas and philosophy behind it all and some pictures.
I will use this thread to post any new developments that will occur and hope to get some feedback, inspiration, advice, assistance, etc.
Coming from the Netherlands will add an extra challenge, since all the infrastructure we have at home won't be readily available at our second home away from home
Being abroad basically means we won't have all our tools, we will need to rent a truck, RV's, cars, generator, sleep in motels etc.
At the same time there's all the stuff apart from building on site that we'll need to do to make this project as perfect as possible. Print stuff, make T-shirts, design a website, print more stuff, etc. Any hints/tips/advice/help on these topics appreciated as well. And probably there's zillions of things I haven't thought about yet.
Well, this is about it. Check the project here below. You'll keep hearing from me ........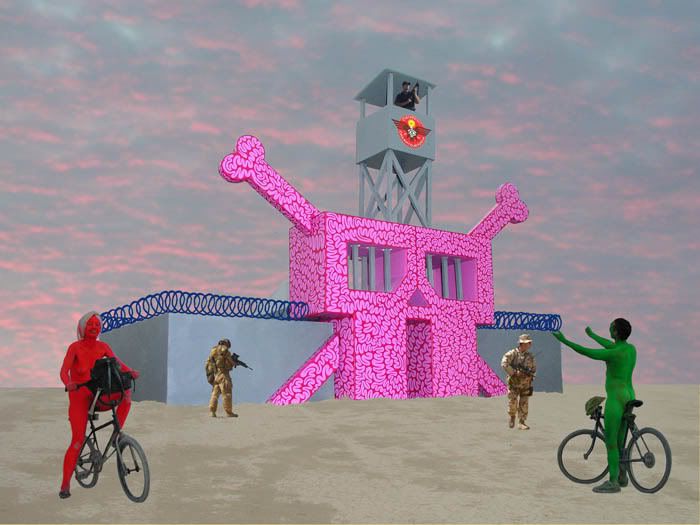 THE AMERICAN DREAM FROM A FOREIGNERS VIEW
Looking at the American Dream theme as the foreigner that I am, my starting point was the fact that for millions of people around the world the American Dream still exists, but it is becoming more and more impossible to achieve because of increasingly fierce border controls, visa regulations, etc. All of them are trying to cross the border in order to chase the rainbow in search of the eternal pot of gold. (Of course this is becoming a universal phenomenon in our global age, as more and more people around the world are trying to enter their promised land , trying to outclever the border patrols at the Mexican border, or embarking with way too many people on an uncertain dangerous journey in small boats trying to reach the European shores from Africa.)
.
For some, it is an opportunity to achieve more prosperity than they could in their countries of origin; for others, it is an opportunity for their children to grow up with an education and career opportunities; for still others, it is an opportunity to be an individual without the constraints imposed by class, caste, race, gender or ethnicity. People might work harder and longer hours to get bigger cars, fancier homes and other fruits of prosperity for their families, leaving them with less time to enjoy their prosperity. Others may look toward a new American Dream with less focus on financial gain and more emphasis on living a fulfilling and fun life.
This emphasis on the individuals dream became my focus in this new project: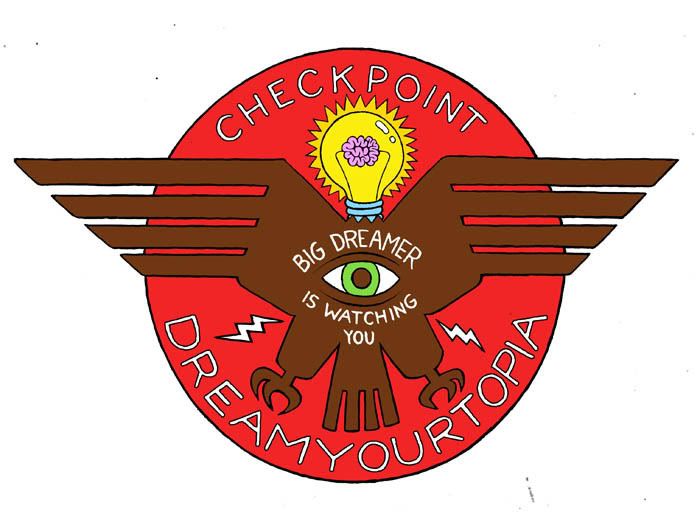 BORDER CROSSING TO YOUR DREAMS
A border control checkpoint, where you leave the American Dream to enter the world of your own dreams…………
Thus it might make you realize that not only crossing the real borders between countries to enrich your life in whatever sense can be a difficult task. Also crossing the boundaries inside the system of your own heart and life might mean a big leap into the unknown, full of dangers as well as pleasures.
Though it will be a symbolic border crossing, the look and feel of it will in many ways be very real. Once you pass the guard, you'll enter a small interrogation house where the customs officer will await you in an archetypical grey environment. Once you have completed all formal procedures, the boom barrier will open and you may cross the
borderline into the surreal and colorful other half of the house.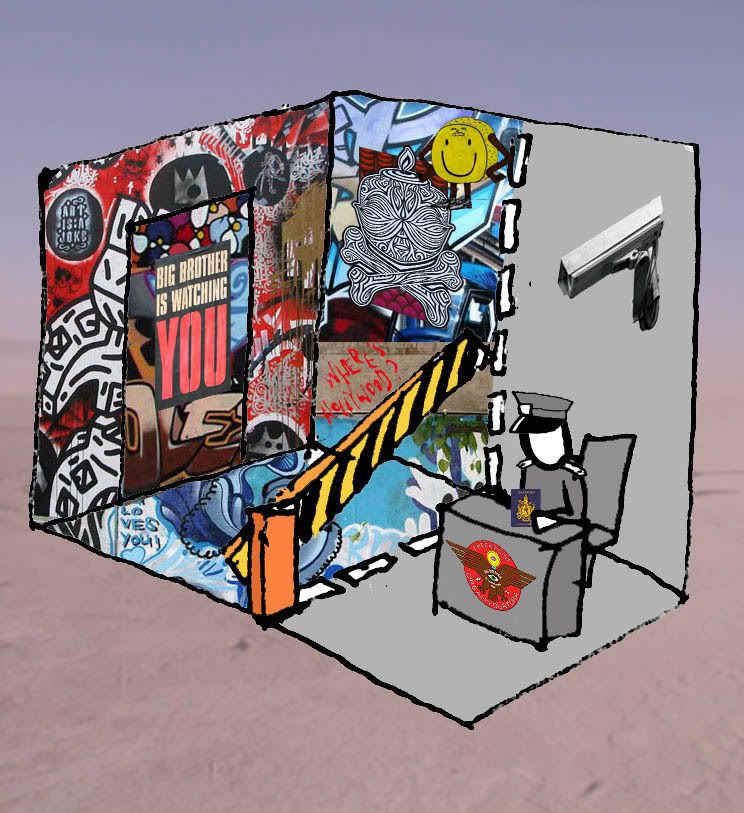 The walls of the compound will act as a blank canvas for Burners to express themselves. Similar to the aesthetics the Berlin Wall in the past and the Palestinian Wall nowadays, these expressions might vary from urban graffiti/street art to idealistic thoughts and slogans.
I would like to combine the above concept with another idea of mine. Last summer I toured several festivals in Holland with "my bar is your bar", a small (1,2 x 1,6 metres) red-brick house, which is a café, creating a very intimate atmosphere for one-on-one interaction (though on occasion 14 people would party inside……).
Depending on which door you enter, you're either a bartender or the local drunk.
So after completing custom procedures you could continue your way to the local dive in the wild border town. Like Tijuana next to the Mexican border.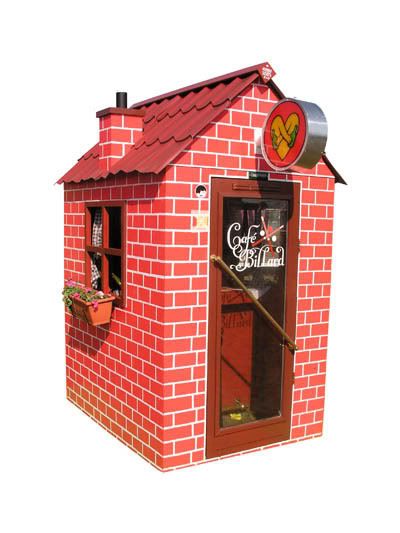 PASSPORT TO THE LAND OF DREAMS
I'm also designing a special passport for this Land of Dreams, you are about to enter.
This passport will have a hardcover and 20 pages inside.
Apart from featuring thoughts and art about having dreams and a designated area for your entrance visa, it will also have several blank pages that can be used to collect stamps, stickers, etc. from other theme camps, installations and participants. An interactive companion accompanying you on your adventures in the desert.
It can be used by the immigration officer on duty. But also a border patrol officer wandering across the Playa might hand it over to you and summon you to get it stamped.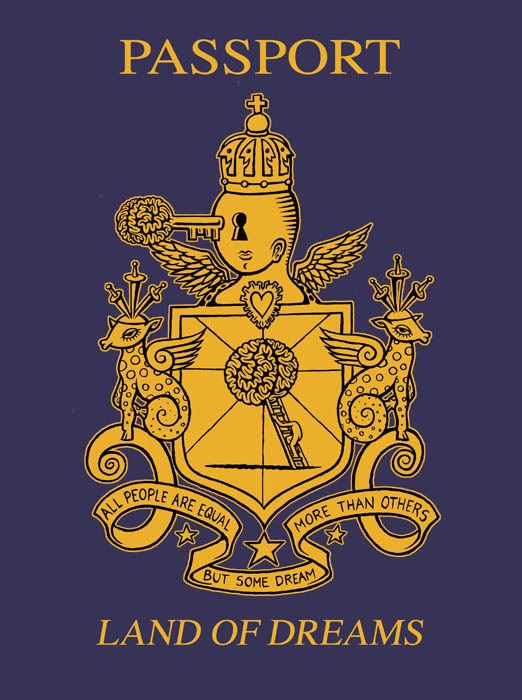 Examples of possible texts inside:
*The bearer of this document is entitled to enter and live his own dream as he/she pleases until further notice. For re-entry into living your life as you're told to, please obtain form 56217.43A from your immigration officer .

*You have entered your Dreamworld, which is unique and entirely yours.
It can contain one big dream or several smaller ones, it might be extremely expensive or dirt cheap to follow these dreams, but for sure it'll require you to be persistent. It might be hard emotional or physical work and you'll have to keep the faith.

*And though your Dreamworld does not necessarily have to have any connection with the real world as we know it and with the systems imposed upon us, (un)fortunately you'll have to live it inside that same real world.

*This dream of yours has not been franchised to you by a big company, nor has it been imposed upon you by your country, your president, your religion, your teachers or your parents, but might have been inspired by all of them (or by your rebellion against them).

*The stamp in this passport is only a symbolic permission to enter and live your dream.

*Warning: you might have already entered your Dreamworld long time ago!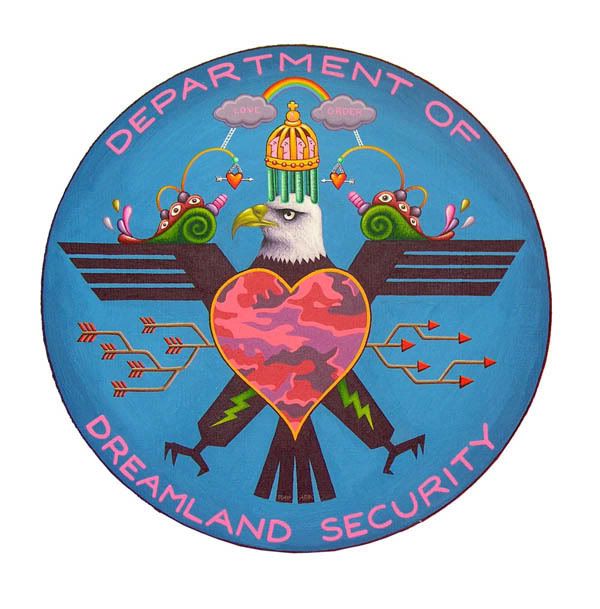 Once you've finished procedures and leave the compound into your Dream. I wanto to give the feeling as if it all never happened. You'll turn around and where you left, you won't see a door, but a clothing cabinet...............
.
WOW! I'm impressed: you made it to the bottom of my post and read it all