Click
Bzzzz… scratch click hmmmm….
[The atmosphere of the candle-lit living room fills with electronic static… and rapt attention. The vacuum tubes of the Radio Set glow with anticipation.]
ANNOUNCER:
And now we welcome all you good folks out there in Radio Land back to Silent Radio – the radio show where you make up your own sounds.
As you may recall, Silent Radio originated in the year of Larry Harvey 2006, and starred our aptly named hero Our Hero, as well as a cast of thousands of Herrings and many other creative creatures such as the notorious Herr Oberst (Mr. Kernul) and his loyal band of dust-covered Apokiliptical lackeys. The one character of the Silent Radio series who was apparently NOT ever loyal was Our Hero himself – the habitual turncoat and all-around Weasel of Opportunity.
History has since proven the disloyalty of Our Hero beyond all doubt. First he skipped Apok membership in 2006 due to a prior engagement with the KazBus crew. In 2007 he took on really big airs and held his very own Kinetic Sculpture Racing Theme Camp. In 2008 he fulfilled an even older previous commitment with Camp Inspiratum (more Kinetic people).
Then, in 2009, he was scheduled to finally join Apok when a financial stumble nearly cost him his participation in The Festival, and his 40 acre allotment of Apok was sensibly subdivided to others.
Now –- in 2010 -- … the odds are about the same. But there are no more prior commitments – unless Kinetic Sculpture Racing Camp Version 2.0 should appear, but that is not supposed to happen until 2011 –- I'm told by those who would take up that glorious banner.
So stay tuned to this station, and find out what devious mischief Our Hero comes up with for 2010. Rumors whisper of a fleet of unridable bicycles (in addition to a flock of normal ridable ones, as in 2009.)
Silent Radio is broadcast from the rooftop of the Kinetic Barn at Clearlake Mechaniachal Laboratorium and sponsored by AMCAR Magazine, the sole source of income for said Laboratorium. (Cold fusion proving elusive.)
Silent Radio will hopefully return… after several big Deadlines have been met –- and presumably met with editorial approval and good profit.
We now return you to Herring News, in progress.
PS:
For old times sake: A certain Kernul is very nearly deposed by popular proklamation when a royal Herring appears in Apok during a 2006 episode of Silent Radio.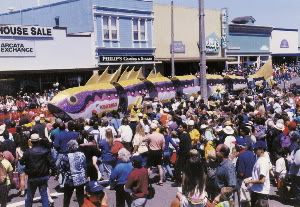 In his spare time, Our Hero has been known to build Playa bikes.