---
---
Posts: 4920
Joined: Tue Jan 24, 2006 7:30 pm
Location: the first Vancouver
Contact:
Be prepared to fight the tentacles of DOOM:

On the FIRST DAY there was the great influx screened at the Greeters Stations

On the SECOND DAY there was the Airport Inspections

On the THIRD DAY @3:00 in the 3:00 Plaza there was the great sword fight. DOOM over the KIWIS, adjourning to the bloody Fascist Fashion Show to minister to the wounded and bring back the dead
Is 4 shots enuff? no foo-foo drinks; just naked Espresso
Tactical Espresso Service
http://home.comcast.net/~espressocamp/
Field Artillery Tractor
FOGBANK, GOD OF HELLFIRE
BLACK ROCK f/x Trojan Horse,Anubis,2014Temple
burn shit and blow shit up
---
---
Apokiliptikas World DOOMinatation is not is all splendour and glory. Think about the next generation, is DOOM what you really want...
No Ordinary Sun
Tree let your arms fall:
raise them not sharply in supplication
to the
bright enhaloed cloud.
Let your arms lack toughness and
resilience for this is no mere axe
to blunt nor fire to smother.
Your sap shall not rise again
to the moon's pull.
No more incline a deferential head
to the wind's talk, or stir
to the tickle of coursing rain.
Your former shagginess shall not be
wreathed with the delightful flight
of birds nor shield
nor cool the ardour of unheeding
lovers from the monstrous sun.
Tree let your naked arms fall
nor extend vain entreaties to the radiant ball.
This is no gallant monsoon's flash,
no dashing trade wind's blast.
The fading green of your magic
emanations shall not make pure again
these polluted skies . . . for this
is no ordinary sun.
O tree
in the shadowless mountains
the white plains and
the drab sea floor
your end at last is written.
Written by Hone Tuwhare (my grandafather, well known NZ poet)

This is of cousre keeping in the theme of green man - "In No Ordinary Sun, a tree is a symbol for nature. The tree will suffer the effects of a nuclear catastrophe, perhaps mankind?s most devastating intrusion into the natural world, and the ?resilience? the tree once was able to exert against forces of destruction, would not be enough, ?for this is no ordinary sun?. Tuwhare compares the effects of a nuclear disaster to the situations the tree once had to face. He uses this comparison to emphasize the harsh effects of nuclear fallout on nature. The tree could once ?blunt? an axe, or ?smother? a fire, but now, its ?former shagginess shall not be wreathed with the delightful flight of birds?. Tuwhare also links the tree to its importance to humans in using a seemingly insignificant image of lovers shielding from the ?monstrous sun? under the tree?s arms."
...with the beast.
---
Yeah, but Hone wrote that about an atomic test,.. APOKILIPTIKA Doom is much better! created by true professionals with a minimum of surface glassification leaving a clean slate to begin again with,... a fresh new beginning.
---
Posts: 84
Joined: Sun Sep 05, 2004 12:34 pm
Location: Coos Bay,Oregon
Contact:
---
Posts: 2969
Joined: Wed Oct 20, 2004 10:32 pm
Burning Since: 2003
Camp Name: Sideshow
Location: Nevada
Contact:
If you are NOT disappointed... we will be sure to correct that!!!!

Muah ha ha ha
Visit SIDESHOW at our kewl website http://sideshow2017.weebly.com
---
---
Posts: 3586
Joined: Thu Feb 09, 2006 6:18 pm
Location: Reno, NV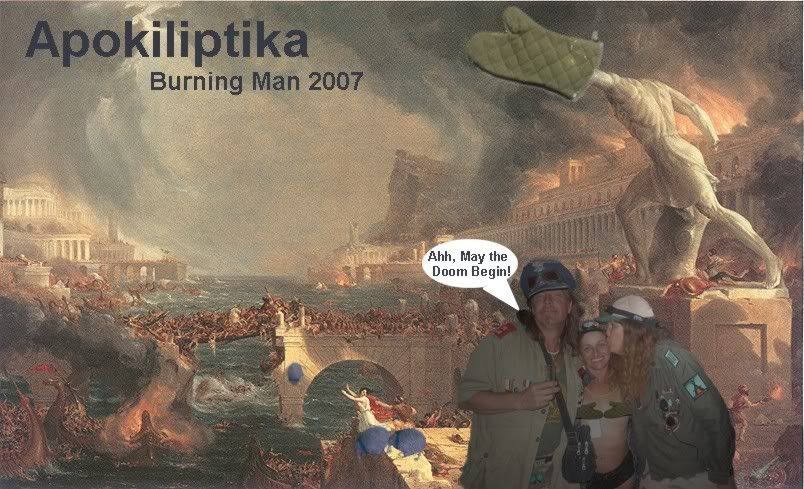 TITWI

To be on the wire is life. The rest is waiting.
It's show time, folks.....Joe Gideon
---
---
Posts: 2969
Joined: Wed Oct 20, 2004 10:32 pm
Burning Since: 2003
Camp Name: Sideshow
Location: Nevada
Contact:
thisisthatwhichis wrote:
ahhhh.... that's one of my favorite snaps... from last year's holiday to the sacking of Rome. Damn, that was a good time.
Visit SIDESHOW at our kewl website http://sideshow2017.weebly.com
---
---
---
---
Who is online
Users browsing this forum: No registered users and 1 guest