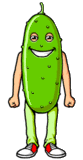 My crew and i are trying to decide on some last thoughts about our art car stuff & one of the things that we were thinking of doing is passing out pickles. I know the idea sounds kind of odd.... even for the playa. It would go along with the motif of our art car idea, but i wanted to ask all of you if you would enjoy an ice cold pickle mid day on the Esplanade.
This idea spawned from a pretty comical fight that happened last year at our camp when a good friend & myself towards the end of the week, got in a huge struggle over the last pickle in the jar outta the cooler! lol....
With all the dust storms & wind everyone in our tent ate up this huge jar of pickles I had bought. It seems the vinegar completely quenched our parched throats & was delicious! lmao...
Which such an odd idea, I figured it might be a good idea to see what ppl thought before we go fund raising to buy 20 gallons of pickles to take with us.
Your opinions are appreciated! Thank you!
Much <3