This morning, as I was dusting the ever-undusted, I realized that I have things here I'd like to know more about.
The unfortunate thing about wanting to know more, is that you need to know ENOUGH to search for the answer. You can't enter a picture in google...... and if you don't have the proper words, you're not going to get very far.
So after not finding the answers, I thought I'd come to you, the diversely well-versed of Eplaya, to see if I could get -- if not the answer -- at least clues that would help in my searches.
And rather than just posting it in the bar, I thought it might be an interesting thing to see All Eplaya's Chillen's Crazy Shit for us to try and figure out.
So here's my first Thing: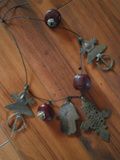 I've been trying to find out the talismans' significance. Although I've got the Hamsa down, the two others have me flummoxed.
Clues anyone?