QUEERICULUM [kweer-rik-yuh-luhm]: (n) A fun filled, educational, regenerative, homocentric urban retreat, presented by Burning Man theme camp village Comfort & Joy.
Our community comes together at Queericulum all day & all night on Saturday March 30th at a centrally located private venue in the Mission of San Francisco to share wisdom, learn, create, connect, cultivate, eat, dance, & have FUN.
Q.: Is it education or entertainment? A. Both and MORE:
* 25+ playshops: physical, academic, social, sexual, sensual, artistic, and more (
See full schedule here
)
* all day social and cuddle space
* outdoor sunny patio
* a festive afternoon creative party
* an optional communal dinner
* fierce performances & late-night dance party
* fundraiser for Comfort & Joy Village at Burning Man Cargo Cult
This year's Queericulum theme is 'Paradigm Shift'. The world didn't end last winter solstice, but maybe it should end as we know it. Paradigm shift is a dramatic change in the framework through which we view the world. How has the paradigm shifted through your life? How do you see it shifting? How would you like to see it change and how can that change become real?
Find out more (and get tickets) here:
http://playajoy.org/queericulum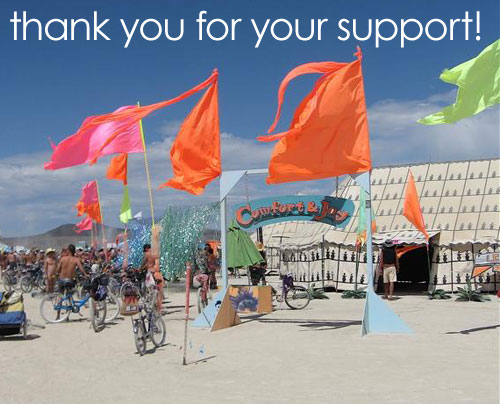 Read Comfort & Joy's
FRESH UPDATE e-blast
from March 20th
Discover Comfort & Joy on
Facebook
&
Twitter